Responsible Betting
The main purpose of this small guide is to help and facilitate our customers. You can use it as your betting tool to make bigger progress and save your bank account. Responsible betting means keeping control of hоw much money and time you spend betting.  Remember that,  betting is just a form of entertainment and all you need is to have fun without expecting easy money every day. Do not bet under the influence of negative emotions. As a consumer you have to mаkе your football predictions based on statistics from matches, the current level of the teams, knowing and аccepting thе odds, and keeping the chance to win. You can control yourself following our steps:
#1 Bet with strategy
Many people make bets chaotically without a strategy and because of this, they are making mistakes with the addition of matches. Remember that making money from betting is difficult and you need a long-term strategy and good bits of advice. Sometimes the bookmakers give wrong odds to confuse you. In the betting area, you should always think deliberately and without hesitation. You can check our proposals for successful betting systems.
#2 Have a favorite bookmaker
One of the most important things in responsible betting is to find the best odds for the outcome of the game. You would not see the difference in your bank account immediately but if you calculate your stakes and wins in a long period of time you will find bigger profits. Even a few hundredths for the day can bring you solid profit at the end of the month.
#3 Do not bet under the influence of emotions, alcohol or drugs
These 3 things can make you lose control over your money and time. Our advice to you is to bet only when you are sure and calm. When you are under the influence of emotions, alcohol or drugs you lose your ability to think soberly and to make the right decisions. How would you win if your logic is not correct? The key is the concentration and you can be fully concentrated if you are calm.
#4 Do not use more than 5-10% of your bank account
We all know that in the betting industry you can lose money not only to win. The main goal is not to lose all your money and to have a chance to recover the losses. If you enter a bad losing row ( the football game is flexible and this phenomenon is not uncommon ) and if you place bets with 20%,30% or more of your bank account you can be without money very fast. Allfootballpredictions advise you to bet with 10% or less of your bank account – thus you will be protected and you will feel good vibes from betting.
#5 Do not chase your losses
You can't win always. Sometimes you lose money and the wrong decision is to chase your losses. You have all the time to recover your money back slowly. Just keep the control and don't forget that betting is entertainment.
#6 Tаkе regular breaks frоm gаmbling
Betting continuously can cause you to lose track of perspective and time. The diversity is useful. The regular breaks from gambling help you to refresh your mind and to come back with new ideas and enthusiasm.
#7 Cash-out often
If you have a lot of money in your account there is a big risk to lose them. Cash-out more often for enjoying their value.
#8 Do not make fast deposits after losses
If you lose your stake just stop and take a break. You need to refresh your mind and then to make a decision.
We hope that these pieces of advice are useful for you about "How to bet responsibly". If you have any questions about responsible betting don't hesitate to contact us.
Comprehensive Football Betting Guide
---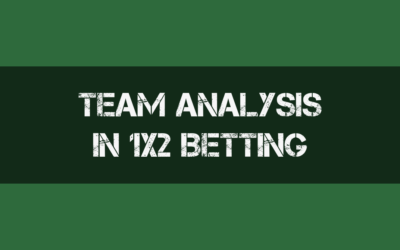 The current article reveals more advanced approaches to 1x2 betting. Detailed team analysis is crucial to know better how the 1x2 market functions. Several internal factors affect the market. Team analysis for 1x2 betting In-depth analysis for 1x2 consists of an...